Albini, Italy
Vis Hydrodynamique
Hydro Power for Fashion Industry, Italy
Albini Energia an Energy Company, part of Albini Group, one of the world's largest fashion company, producer of very high quality and precious shirting fabrics, has invested recently in Spaans Babcock Hydro Power installation.
Albini Energia, specialized in the production of high efficiency energy heat recovery machines, has invested in green energy with 2 hydro power plants. Spaans Babcock has supplied, installed and commissioned the Archimedes screw generator together with the gates, control panel and VSD (variable speed drive). A fish friendly design with ECO-coating and ECO-bearing.
Due to the narrow access road and small area, Spaans Babcock had to deal with limited space for offloading and installation. The experienced high skilled employees of Spaans Babcock managed together with the skilled staff from Albini a smooth realisation of the plant.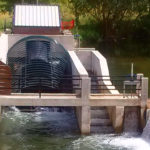 Both plants have their own control panel and gates and deliver the power to the national grid. An intake section was built to house and to support the upper end of the equipment. Albini Energia preferred the robust solution with a steel liner for grouting in. The steel trough was pre-assembled together with the screw pump, the upper bearing and the beam mounted lower bearing.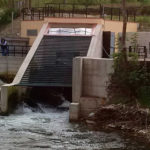 The Spaans Babcock Archimedean is controlled by the control panel via a variable frequency drive. The flow passes through the slowly rotating fish friendly screw turbine fitted with rubber bumper strips to prevent fish damage. The ECO lower bearing takes care of the environment and is maintenance free with low operational costs.
The control panel includes a touch screen interface and the facility for remote login. This allows the operator to monitor and check on the installation either locally or from any place through an internet connected computer or a suitable device.
| | | |
| --- | --- | --- |
| Data | 2013 | |
| Installed Power [kW] | 55 | 65 |
| Design flow rate [m3 / s] | 3,95 | |
| Head [m] | 1,55 | 1,65 |
| Turbine Diameter [m] | 2,85 | |
< Retour au sommaire