QA / QC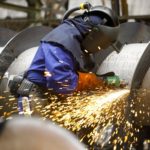 "Quality is never a coincidence: it is always the result of high intention, sincere effort, intelligent direction and skilful execution."
> John Ruskin 1819-1900, writer and social critic
Reliability and quality of products, processes and services have become the vital ingredients of success. It has become the standard of Spaans Babcock.
But what does that mean? To Spaans Babcock providing quality means providing both internal and external customers with wastewater treatment products and services that meet all requirements and expectations. Spaans Babcock is contentiously being subject to internal audits to push themselves to become better and to reach the highest level possible.
Spaans Babcock is fully audited and accredited to ISO 9001 and SCC2008/5.1.
To download the certification document SCC**,please click here. 
To download the certification document ISO please click here.
ISO 9001
Since 1998 Spaans Babcock bv has been certified with the quality label ISO9001. In 2019 the auditors of Lloyd's Register Quality Assurance have conducted their 3-yearly certification review which resulted again in a renewal of the ISO9001:2015 certification.
The ISO9001:2015 standard requires greater attention to quality management; the new standard provides a company insight in the connection between product quality and concern success, contributes to a larger measure of customer satisfaction and to improvement of management systems.
SCC**
Spaans Babcock bv is SCC**-certified since 1999.
The SCC**-certification is developed to test the safety control systems of servicing companies in an objective and structured way.
The SCC**-certification can be compared with the OHSAS18001 certification. Spaans Babcock bv meets all the requirements for the SCC** certification and passes the yearly audit every time successfully!
Spaans Babcock recognises the importance of and works continuously to improve its quality management system. We operate under policies pertinent to 'Bribery and Corruption', 'Modern Slavery' and 'Corporate Responsibility'
Health & Safety
Spaans Babcock recognises the primary business driver of safeguarding and this is fundamental to our effective business management approach. Our health & safety performance is driven by our management teams visible & active commitment in promoting the health and safety of its employees, sub-contractors and of all those, including members of the public, who may be affected by our work.
Our staff undergo extensive technical and H&S training to ensure we get the job done safely. We are specialist in confined space entry and our staff are trained to the highest standards. We have our own in house trained and qualified safety advisors.
Spaans Babcock have achieved Verify status with Achilles (UK only), who are a leading global provider of supplier management information to industries such as the Utilities sector.
We are also accredited under the the 'SafeContractor' scheme (UK only). This provides independent audited assurance to our customers that health and safety is being handled correctly and sufficiently on their sites.
Spaans Babcock are members of ROSPA (UK only).
We are currently working towards BS OHSAS 18001 and will be awarded this standard shortly (UK only)
Environment
Protection of the environment in which we live and operate is an integral part of Spaans Babcock values and principles. Care for the environment is one of our key responsibilities and plays an important part in the way we carry out our business activities.
Spaans Babcock is fully audited and accredited to BS EN ISO 14001 (UK only).
We comply with all relevant environmental legislation, regulations and approved codes of practice to protect the environment by striving to prevent and minimise our contribution to pollution of land, air, and water. We manage and dispose of all waste in a responsible manner.
As a company, we develop our management processes to ensure that environmental factors are considered during planning and implementation.
We are members of the 'Green Business Membership' group (UK only).