20 Tonne Hydro Power Installation for New Durham City Development
20 Tonne Hydro Power Installation for New Durham City Development
An Archimedean screw weighing 20 tonnes and measuring 13m long, has been installed by Spaans Babcock at a Durham riverside complex.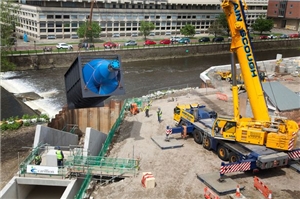 This equipment will harvest energy from the River Wear to drive a 100kW generator, capable of supplying 75% of the total energy requirement of the new Freeman's Reach development in DurhamCity.  The screw will generate energy 24 hours a day, enabling Freeman's Reach to be awarded an A Rated Energy Performance Certificate and BREEAM Excellent status.
The screw is set to become a visitor attraction in its own right and will improve the ecology of the River Wear as its design incorporates an improved fish pass.  This allows fish and elvers to travel upstream more easily to access the upper reaches of the river.
Following its installation the Archimedean screw will undergo a programme of commissioning works before it begins generating power in the autumn.
The new turbine will continue the legacy of hydro power generation at Freeman's Reach, which dates back more than 800 years to the original medieval Bishop's Mill.